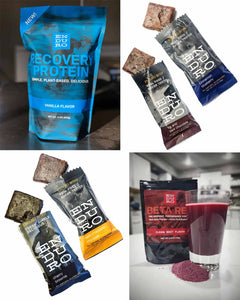 This bundle is everything you need to get started with our products. We categorize our products into three main categories:
Before Workout
During Workout 
After Workout
The Before, During, After Workout Bundle includes:
(2) 12-pack Enduro Bites
(1) 20 serving Beta Red

(1) 

30 serving Recovery Protein
Enduro Bites
A considerable upgrade for your parents' fig newtons, this fig-based bar is studded with real dark chocolate chunks and toothsome figs. Our signature offering, the Fig and Dark Chocolate bar is perfectly balanced and just what your body craves.
Two pre-cut 100-calorie servings per package. All-natural and free of gluten, dairy, soy, peanuts, tree nuts, and GMO ingredients. Handcrafted daily in small batches so every order ships fresh directly from our kitchen.
Beta Red
Formulated to help endurance athletes optimize performance and decrease fatigue, Beta Red combines the nitrate power of beets with key performance-boosting amino acids for a potent synergistic effect to supercharge your workout or race. 
Research-proven ingredients Studies have shown Beta Red's ingredients to have the following effects when consumed prior to exercise:
Improve aerobic efficiency – allow you to do more work for a given amount of oxygen 
Increase muscular endurance
Delay fatigue and improve sprint performance at the end of an exhaustive workout
Stimulant-free Unlike other pre-workout formulas that get most of their effects from caffeine, Beta Red is free of stimulants. We left them out since individual tolerances vary widely. Two hundred milligrams of caffeine may be perfect for your training partner, while anything more than 50 milligrams may be too much for you. Besides, we'd rather enjoy a nice cup of coffee and get the added health benefits not found in supplemental caffeine when looking for a buzz.
Athlete tested Designed for and tested by world-class competitors to deliver real-world results. Since our athletes compete at the highest level, Beta Red is also free of banned substances and safe for drug-tested competitors.
Made in Colorado  We are proud to live where some of the best endurance athletes train. It allows us to test and refine our product on some of the best proving grounds anywhere. Making our products here allows us to update them at a moment's notice based on our athletes' feedback.
All-natural  No artificial colors, sweeteners, or flavors. 
Recommended use:  Mix 1 scoop with 8 ounces water and drink 60-90 minutes before training. May be doubled prior to racing and intense training. Consume every 2 hours during long races and training sessions.
Recovery Protein
Recovery Protein by Enduro Bites is a premium, plant-based, low-sugar protein powder formulated to support muscle repair from intense workouts and competition.
We use the highest-quality plant sources, without gimmick ingredients, to yield a great taste and a high percentage of complete protein. Each serving has 3.76 grams of branched-chain amino acids, in addition to all other essential amino acids for a PDCAAS score of 1.0.
Have you noticed that most "recovery" products are loaded with refined sugar? Unless you're already at your ideal body-fat level and training twice per day this can be counterproductive and lead to carrying excess weight. Besides, since many of us 'train to eat,' why fill up on refined sugar from a drink when you could be eating real food that you've been craving? It doesn't make sense to us. We formulated Recovery Protein so you can get high-quality, plant-based protein without the junk calories.
For an easy-to-make, quickly-digested, high-quality source of protein following training, drink one serving within 30 minutes after your workout. You can use Recovery Protein any time you want to boost protein intake, but we've found that drinking it after training makes the biggest difference. It can also be added to recipes to boost protein content (baking is fine).
Ingredients
Pea Protein, Rice Protein, Natural Flavors, Coconut Palm Sugar, Sunflower Lecithin, Salt, Monk Fruit Extract
* We stand behind everything we make, which means every Enduro Bites product comes with a 100% money-back guarantee. Click here for more details.